See the Patchwork Quilt Barns of Southeastern Ohio>>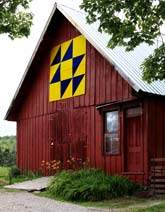 Ohio
Quilt Guilds
Cascade Quilt Guild of Akron
-Akron
Columbus Metropolitan Quilters Guild
-Columbus
Common Threads Quilt Guild
-Bexley
Goodtime Quilters
-Lancaster
Heart of Ohio Quilters Guild
-Heath
Miami Valley Quilter's Guild
-Dayton
Northeast Ohio Regional Quilter's Council
Northwest Ohio Modern Quilt Guild

Ohio Quilts!
-Worthington
Ohio Star Quilters
-Port Clinton
Ohio Valley Quilt Guild
-Cincinnati
Quintessential Quilters
-Columbus
Sacred Threads
-Reynoldsburg
United Quilt Guild
-Hanoverton
Westerville Quilt Guild
Westerville

Women of Color Quilters
The Women of Color Quilters Network is a non-profit organization founded in 1985 by Ohio resident Carolyn L. Mazloomi, a nationally acclaimed quilt artist and lecturer, to foster and preserve the art of quiltmaking among women of color.
In 2003 Dr. Mazloomi was awarded the first Ohio Heritage Fellowship Award. Ohio Heritage Fellows are among the state's living cultural treasures.
Educational projects and workshops foster exposure to the arts, creative development, and improved self-esteem. These programs present the benefits of quilting to audiences of all ages, income levels, ethnic background and learning abilities.
For More Information Contact:

Women Of Color Quilters Network
c/o Carolyn Mazloomi, Director
5481 Oldgate Dr.
West Chester, OH 45069
Phone: 513-755-3414
Are You an Ohio
Quilt Shop Owner?
Contact us directly with information about your quilting store.