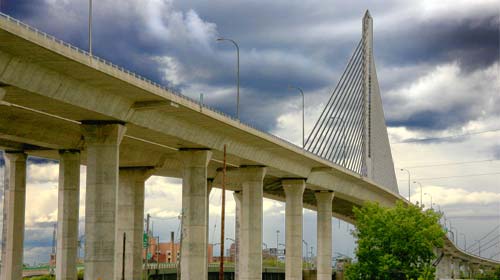 Toledo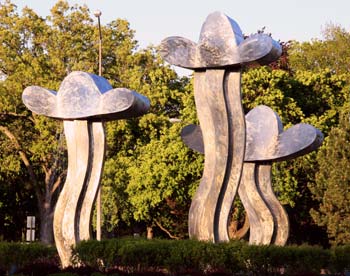 Located on the northern border of Ohio and the western end of Lake Erie, Toledo, also known as "The Glass Capital of the World," has a long history of innovation in many aspects of the glass industry. In the late 1890s, the first spring-less scale was invented in Toledo which would lead to the creation of Toledo Scale, a world leader in measuring equipment. And the world-famous Jeep vehicles have been manufactured in the city since 1941.
Founded in 1833, Toledo's 310,000+ residents enjoy a wide variety of culture and entertainment. And its proximity to Detroit, Cleveland and Columbus make it the perfect stopping off point for tourists on their way to other destinations. Toledo has just about something for everyone from history buffs, thrill seekers, art enthusiasts, nature fans and life-long learners.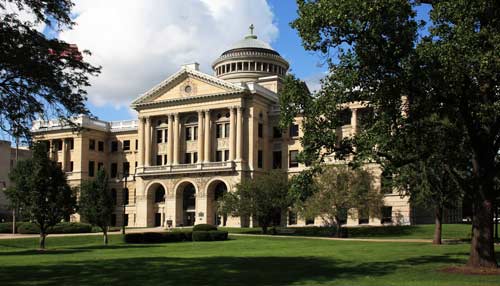 Lucas County & the War with Michigan
Toledo is the county seat for Lucas County. The county was named for Governor Robert Lucas who was perhaps best known for stepping up to the plate when Michigan threatened to send military forces into Ohio when Ohio decided to include part of Michigan's territory as part of Ohio.
When Ohio decided to include the Toledo Strip in its plans for the Miami and Erie Canal, things began to heat up between the two governments. Ohio became a state in 1803, but Michigan had not yet met all of the requirements for statehood according to the US Congress in 1835. Part of the reason for this was a narrow strip of land between Ohio and the Michigan Territory that had been improperly surveyed a number of years before. Michigan accepted the claim by one surveyor while Ohio accepted the line of another Surveyor.
When Ohio decided to make it official that the Toledo Strip actually belonged to the Buckeye state, Michigan threatened reprisal by sending troops down to enforce their claim to the narrow strip of land. This dispute became known as the Toledo War of 1835.
Many threats were tossed back and forth, and surveyors tried to determine the true border based on the Northwest Ordinance of 1787 which declared that the Michigan Territory extended as far south as the southern tip of Lake Michigan. The dispute heated up, mostly in the bars of Toledo, but nothing came of the threats and the only casualty of the brief conflict was Michigan's Monroe County Deputy Sheriff Joseph Wood, who was wounded when he tried to arrest a man at a bar and he was stabbed in the leg.
As 1835 dragged on, residents of Toledo organized an election to transfer the political jurisdiction of the lower Maumee from the Michigan Territory to Ohio. After this, Michigan Gov. Stevens T. Mason, sent troops into the area. Ohio Gov. Robert Lucas called out the Ohio militia.
Ultimately, the dispute was settled by President Andrew Jackson in favor of Ohio. In 1836 the U.S. Congress compensated Michigan for the loss of the Toledo Strip, by awarding Michigan the Upper Peninsula and admission to statehood a year later after further political wrangling. As a result of this, the Ohio state legislature organized most of the disputed area into Lucas County and firmly established Ohio's northwest border where it currently exists.
Toledo Zoo: rated as one of the 10 best zoos in the country. The zoo features over 4,800 exotic animals. 2 Hippo Way, Toledo, 43614 (419) 385-5721.
Toledo Farmers Market: started in 1832 as a place for area farmers to sell their produce and provide a centrally located place to shop for everything from fresh fruits and vegetables to live poultry.
237 S. Erie St., Toledo 43602 (419) 936-255-6755.
S.S. Willis B. Boyer Museum Ship: launched in 1911, the 617' freighter was once the largest bulk freighter on the Great Lakes.
26 Main St., Toledo 43605 (419) 936-3070.
Toledo Botanical Gardens: green space is open to the public free of charge seven days a week. The mission of the garden says it all: Enriching your life through gardens, the arts and nature. See several different theme gardens, including the Shade Garden, one of the region's finest hosta collections, an Herb Garden, a Pioneer Garden, a Vegetable Garden and a Perennial Garden.
Toledo Firefighters Museum: dedicated to preserving the history of the Toledo Fire Division as well as educating its citizens about fire prevention and safety.
918 Sylvania Ave., Toledo 43612 (419) 478-3473.
Wolcott House: is the Maumee Valley Historical Society, the complex takes visitors back to the early 1880's and gives them a peek at what pioneer life was like in the Maumee Valley.
1031 River Road, Maumee 43537 (419) 893-9602.
Sandpiper Boat Cruise: the 100-passenger Sandpiper boat has been providing enjoyable sailing experiences along the Maumee River. Jefferson Street Dock in downtown Toledo. (419) 537-1212
Toledo Lake Erie & Western Railway and Museum: take a nostalgic 15 mile round trip through northwest Ohio countryside. Board the Blue Bird train at Waterville, Ohio for a 15 mile round trip on the tracks of the Toledo, Lake Erie & Western Railway and Museum, Inc., once part of the Cloverleaf Division of the Nickel Plate Road.
49 N. 6th St., Waterville 43566
Butterfly House in Whitehouse: offers visitors the opportunity to view hundreds of species of butterflies in a beautiful enclosed garden setting.
11455 Obee Road, Whitehouse 43571 (419) 877-2733.
Fort Meigs: one of the largest wooden walled forts in North America. Located in Perrysburg, Ohio, the rebuilt fort stands on its original site overlooking the Maumee River.
29100 West River Road, Perrysburg 43551 (419) 874-4121
Maumee River: brimming with Walleye fish from the 3rd week of March to the 1st week of April, it draws 10,000 fishermen each season.
Tony Packos: restaurant made famous by Max Klinger on M*A*S*H played by the Toledo native Jamie Farr.
Sauder Village: costumed guides about how families lived over 100 years ago.
Owens Corning Nature Walk: open to the public, take a stroll along the Maumee River and the amazing sites.
Schedel Arboretum and Garden: 17+ acres of gardens offer visitors breathtaking views of both upland and lowland habitats and the opportunity to see many plant species not normally available in our area.
19255 Portage River S. Rd., Elmore 43416 (419) 862-3182
Wildwood Preserve Metropark: The prairie community at Wildwood Preserve is home to many diverse and fascinating plants and animals, providing them with critical habitat throughout the year. In spring, it is an essential breeding site for ground-nesting birds such as rufus-sided towhees, field sparrows and American woodcock. Summer brings a spectacular display of prairie wildflowers and grasses, such as rough blazing star, big bluestem and Indian grasses, some reaching 10 feet high. At the heart of the preserve is Manor House built in the 1930s for the Stranahan family, it is an excellent example of 18th century Georgian colonial architecture.
5100 W. Central Avenue
(two entrances between Corey and Reynolds roads)
Toledo
Providence Metropark Canal Experience: Step back in time at the Canal Experience and discover life along the Miami and Erie Canal. Located across the Maumee River from Grand Rapids on US24 at SR578.
Fossil Park: dig for your own unique brand of buried treasure as you hunt for these world renown fossils in a five-acre rock quarry. The Devonian fossils come from Hanson Aggregate Midwest's large working quarries a mile to the south of Fossil Park, where you and your family or group can hunt for these fossils in a safe and controlled environment. The park is open SATURDAYS AND SUNDAYS ONLY through October 21, Saturdays 10-5 and Sundays 11-5.
5705 Centennial Road, Sylvania, 43560
The Toledo Museum of Art: features a world-renowned glass exhibit as well as some of the most famous paintings, prints, sculptures and furniture in the world.
2445 Monroe St., Toledo 43620 (419) 255-8000
Toledo Museum of Art's Glass Pavilion: is part of the Toledo Museum of Art and located across the street from the Museum. One of the distinguishing features of the pavilion is that all of the exterior and nearly all interior walls are large panels of curved glass, resulting in a transparent structure that blurs the boundaries between interior and exterior spaces. Juxtaposing gallery space and glass making studios, the Glass Pavilion offers visitors the truly unique opportunity to appreciate the history of glass as an artistic medium, as well as witness its creation, within an architectural marvel of glass. The Glass Pavilion is open during regular Museum hours, and admission is free.
Ballet Theatre of Toledo provides an opportunity for area students to study and perform ballet.
1124 Corporate Dr., Holland 43528 (419) 861-0895
The Collingwood Arts Center registered historical site open for exhibitions, small conferences. Rooms are rented to resident artists. The 600 seat theatre is used for local performances.
2413 Collingwood Blvd., Toledo 43620 (419) 244-2787
Historic Ohio Theatre: shows movies using an original carbon-arc projector. 3114 Lagrange St., Toledo 43614 (419) 241-6785
Repertoire Theatre: has over 70 years of performances and going strong in the same downtown location, the 10th Street Theatre.
Architectural Artifacts is a 30,000 sq. ft. bonanza of great architectural elements and unique decorative objects, fun garden pieces, lighting plus 1000s of parts for home and building renovations.
20 S. Ontario St., Toledo, 43602 (419) 243-6916.
The Candy Cane Christmas Shoppe the northwest's only year-round Christmas shop featuring 35 theme trees and displays.
22897 SR 20-A, Archbold, 43502 (419) 445-5828.
Erie Street Market: in downtown Toledo's historic warehouse district, the market blends tradition with modern convenience, attracting thousands of shoppers and diners downtown each week.
237 S. Erie St., Toledo 43602 (419) 936-3743.
Libbey Glass Factory Outlet: the largest Libbey Glass Factory Outlet and is one of Toledo's most popular destinations for glassware, dinnerware and accessories. It also features a small museum devoted to the company's 175+ year history.
205 S. Erie St., 43602 (419) 254-5000.
Lily's on Main provides distinctive accessories for the home with an architectural flair. Featuring wrought iron, copper and marble tables, benches, arbors and garden accents. Unique artwork, pottery and specialty items.
5693 N. Main St., Sylvania 43560 (419) 885-8489.
Maumee Antique Mall 120,00+ sq. ft. of quality antiques including furniture, lamps, toys, primitives, Americana, silver, china, glassware, jewelry, and more.
1552 S. Reynolds Rd., Maumee 43537 (419) 893-2468
Soutwyck Shopping Center includes a number of specialty shops including fashion, jewelry and shoe stores.
2040 S. Reynolds Rd., Toledo 43614 (410) 865-7161
Taste of Toledo specializes in products from Toledo and around Ohio that make great corporate or personal gives. The only place to find exclusive Toledo Scenes afghan and note cards.
6833 Angola, Holland 43528
U.S. Glass Specialty Outlet offers an extensive array of specialty glass, ceramic items and colorful accents for the home. Custom etching, and screen printing.
1367 Miami St., Toledo 43605 (419) 698-8046.
Vintage Gardens Gallery has distinctive garden and gifts featuring works by Toledo Botanical Garden resident artists along with regional originals.
5403 Elmer Dr., Toledo 43615 (419) 536-2617.
Westfield Franklin Park is a premier destination for shopping, dining and entertainment in northwest Ohio, featuring more than 150 retailers.
5001 Monroe St., Toledo 43623 (419) 473-3317
Wild Birds Unlimited Nature Shop everything for the bird lover.
5236 Monroe St., Ste D, Toledo 43623 (419) 841-7219
Wildwood Antique Center fine antique dealers.
1244 Corporate-Trust Dr., Holland 43528 (419) 243-1800.
Toledo's Early days
Toledo is on the northeastern part of an area known as the Great Black Swamp. Most settlement in this region was delayed until after Ohio obtained statehood because of conflicts with Native Americans. Toledo itself was incorporated in 1836, and it was built on the site of a former stockade, Fort Industry, which was built in 1800.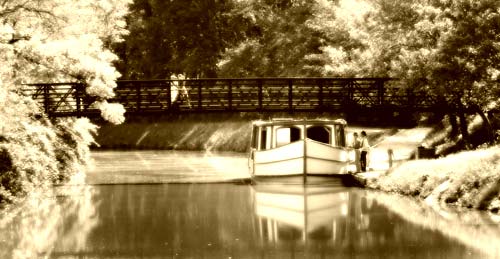 Originally, there were 2 separate towns named Lawrence and Vistula. When the Wabash and Erie Canal was mapped out in 1836, the location of Toledo was chosen as one of the terminal points for the canal. A joint decision between the citizens of the two towns to merge together and create the new community. The matter of the name for the united towns was discussed, when James Irvine Browne suggested the name Toledo, and it was adopted. By 1840, Toledo had a population of 1,322 people.
Although the canal would bring significant business to Toledo, the community still struggled in its early years. Residents suffered from epidemics that would quickly spread through the region in 1838 and 1839. The canal finally opened in 1845. The canal made Toledo a growing seaport along Lake Erie, and much commerce traveled through Toledo. In addition to the Wabash and Erie Canal, Toledo was connected to the cities of Cincinnati and Dayton by way of the Miami and Erie Canal. By 1880, Toledo boasted a population of more than 50,000, making it one of the largest cities in the state.