Zanesfield
Named for Isaac Zane, Zanesfield is the smallest incorporated villages of Logan County with just over 200 residents. Its history is deeply rooted in several Native American groups that populated the area until American settlers moved in after the War of 1812 doomed the Native Americans who supported the English during that war. Prior to that, there was a series of trading posts built in the area, including a British fort that was destroyed by Colonel Logan in 1786.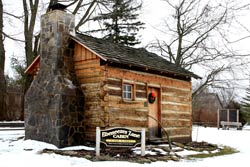 Isaac Zane was the brother of Ebenezer Zane for whom Zanesville was named. Isaac, born in 1753 in Virginia, was captured by Wyandot Indians when he was just 9 years old and spent a number of years of his life living with them. Isaac married Myeerah, the daughter of the widely known Wyandot Chief Tarhe. He would later use the knowledge he gained from this captivity during treaty negotiations with a number of Native American groups. In repayment for his service to the government, Zane was given 1800 acres of land that included the area that would become Zanesfield. His brother Ebenezer helped survey the land and lay out the plots.
Earl Sloan
One of Zanesfield's noted persons was Earl Sloan. Earl Sloan became an entrepreneur and later a philanthropist, but in his early days growing up in Zanesfield, he was just a poor son of an Irish immigrant, and who couldn't be trusted to return a book. One day the young Sloan asked a neighbor who operated a small library to borrow a book. Noting the young boy's dirty hands and ragged clothes, the librarian refused to loan the book to the young Sloan. He vowed that when he grew up he would make a lot of money so he could buy all the books he wanted.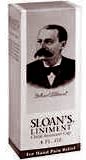 His father was a self-taught veterinary surgeon. He seemed to have a gift with horses. Over the years he developed a special formula that was a concoction that was supposed to have been developed from old Indian rub. Whatever the source, the horses seemed to approve of the foul smelling mixture when applied to their aching flanks after a heavy workout on the farm.
Sloan's liniment became popular in the county, so much so that young Early and his brother took a batch and went on the road selling the bottles from farm to farm. So popular was the tonic, that the brothers soon had their own horse and wagon they used to hawk the potion. Over time, it became apparent that the potion was not only good for horse, but was also good for sore hands. When Sloan died in 1923 he left his $1.5 million estate to the boys and girls of Logan County. Six years before that, he donated $25,000 to build a library along with a $40,000 endowment for the library. That library is still being used.