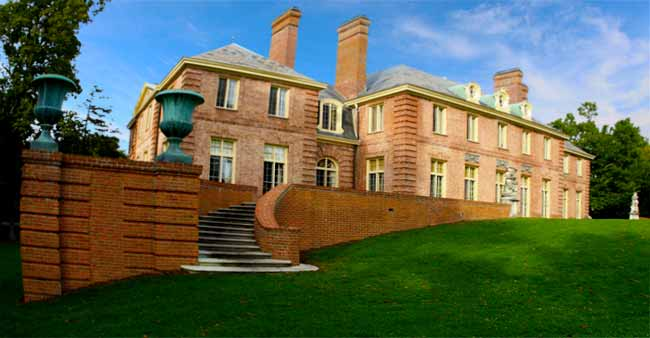 Kingwood

Center

Built in 1926 for Mr. and Mrs. Charles Kelley King, the 47-acre estate opened as a public garden in 1953, one year after Mr. King's death. Mr. King, who was married and divorced twice, never had children. He left most of his estate to the private foundation that continues to operate Kingwood Center today. Mr. King made his fortune in Mansfield, Ohio working with the Ohio Brass Company. Hired as the company's first electrical engineer in 1893, he led Ohio Brass into new ventures, particularly the manufacture of electrical fittings for railroads and trolleys. Mr. King eventually became President and Chairman of the Board of Ohio Brass.
Planning a visit to the Kingwood Center? The gardens are open free of charge most daylight hours 7 days a week except a couple of winter holidays. The mansion (closed Mondays) and greenhouse plant sales area have slightly more restricted hours.
On the grounds you'll see a beautiful French Provincial house with the gardens surrounding the main house. The Kingwood Center is now run as a center for horticultural education. The overall plan is influenced by the Arts and Crafts style but the planting and construction detailing create a strong American character with a mix of formal and informal garden areas.
One of the neat things about Kingwood Center is that it is always changing, keeping pace with the seasons. Not only does Kingwood change with the seasons, it also changes with each year so visitors have something different to see.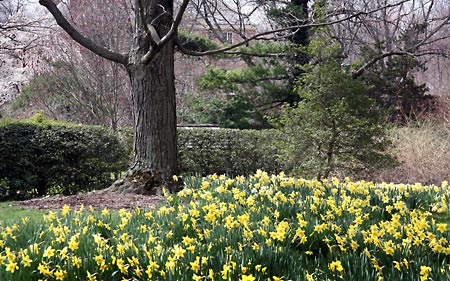 Blooming dates
The following are the traditional blooming dates for various types of flowers. Remember, bloom dates are estimates and extremely cold or warm conditions, especially in the spring, can change those dates by a week or more.
Daffodils: Mid-April to Early May

Peonies: June

Perennial Garden: April to Fall Frost

Roses: June to Fall Frost

Tulips: Early to Mid-May

Daylilies: July and August

Wildflowers: Early May to Fall Frost

Annual Display: July to September

Iris: Late May to Early June
Kingwood Garden Gallery:
See also: