N
ortheast Ohio has some of the oldest industrial cities in the state. Cities like Cleveland, Akron, Youngstown and Canton were all major industrial centers. In the late 90s as American was going through a shift in manufacturing, many of these cities got caught in plant closings, job loses, and a general decline in quality.
Today, these cities are back and sassy! There is all kinds of new growth and activity. One of those areas of activity is tourism. Just look at the Cuyahoga National Park and the entire Ohio & Erie Canalway corridor. This hundred mile plus swath has embraced our heritage and it has rewarded them nicely for their efforts. Towns and cities along the canal have joined together to create something bigger than just the parts.
Amish Country
What can be better than being in Amish Country in the fall? Ohio has the largest Amish / Mennonite settlement in the country. This region is composed of Holmes, Wayne, Tuscarawas, Coshocton, Knox, Ashland, Richland and Stark Counties. All combined, these areas offer a variety of good food, attractions and some of the most beautiful country in the state.
Ohio & Erie Canal today
Even though the canal system officially ended in 1913, today, in many areas, parts of the canal have become attractions, not as transportation systems, but as recreational and visitor attractions.
Must see canal attractions in Northeast Ohio:
Presidential Home
He was the last president to have been born in a log cabin not too far from what would become his presidential home in Mentor. Although James A. Garfield was a successful politician, it wasn't his desire to run for president. In fact, it wasn't until 35 ballots had been taken at the Republican National Convention with no clear winner, that Garfield was convinced it was his duty to throw his hat into the ring for the highest office. On that 36th ballot, James Garfield was selected as the Republican nominee for president.
During his campaign, he conducted what would become known as a front porch campaign he ran from his home in Mentor he called Lawnfield. Reporters set up tents in the side yard to cover his campaign. After a particularly contentious election, Garfield won by just 10,000 popular votes becoming the 20th President of the United States and just 100 days later, he would become America's second president to be assassinated in office. After his death children across the country would collect pennys to create a lasting memorial for Garfield. They succeeded and this memorial is open for public viewing daily at Lake View Cemetery in Cleveland.
Lawnfield has been meticulously restored to its original character and is open to the public.
Paul Brown: An Ohio Football Legend
Football for many was born in Northeast Ohio after all, this is where Paul Brown got his start. In 1932 he coached his high school Alma mater, Washington High School in Massillon, Ohio. Over 8 seasons, Brown posted a record of 80 victories, 8 losses, and 2 ties. He only lost 1 game at Washington High School after the 1935 season.
After this successful high school coaching run, Brown was hired to be the new Cleveland Browns first coach. During his long career with Cleveland he amassed 167 wins, 53 losses, and 8 ties. He also won 3 NFL titles. Paul Brown remained with Cleveland until 1962 after a disagreement with the new owner, Art Modell, and was fired. Not content to go quietly into retirement, Paul Brown decided that he still had something to prove, and went on to create the Cincinnati Bengals. Today, there is a statue of Paul Brown outside Washington HS Stadium in honor of this Ohio Football Legend.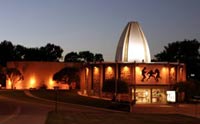 Not far from Washington HS, in Canton, is the Football Hall of Fame. No football enthusiast should miss seeing this distinctive museum.

Warther's Museum
Visit the Warther Carving Museum, in Dover, and you'll experience the story of the Warther family and how the Warthers combined love of family and a love of hobbies to create an amazing legacy.