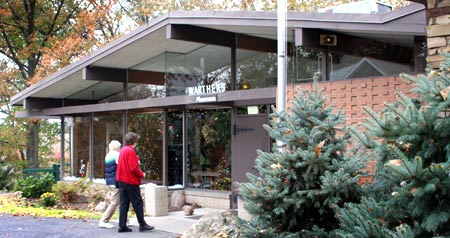 Warther's

Museum

In 1902 Ernest Warther started making knives of his own design and technique because he wasn't satisfied with the quality of the knives he could buy.

Visit the Warther Carving Museum, in Dover, and you'll experience the amazing story Ernest "Mooney" Warther and how his combined love of family and their hobbies were used to create an amazing legacy that still lives today. Ernest Warther turned his carving into creations the Smithsonian called "priceless works of art".

In an age when steam locomotives were king, so many of Mooney's carvings were based on the mighty steam locomotives of the day. Many are made of walnut, ebony, and ivory. His carvings combined not only history and artistry, but also with motion by giving his locomotive carvings the ability to run authentically. Exacting precision and detail reflect Mooney's amazing skills and passion for steam technology. In fact, the perfection and mechanizing of his steam locomotives earned him the title of World's Master Carver, in the 1920's.
Knife Maker
Ernest Warther first made knives because he couldn't find a knife that would hold an edge when carving hard woods like walnut. Then his mother complained about her kitchen knives not staying sharp, so Ernes made his mother a paring knife. Word spread about the wonderful kitchen knives that Warther was making and soon he had a thriving business. When the local steel mill he was working in shutdown, Mooney turned to knife making to support his family. 2nd, 3rd, and 4th generation Warther's still use the same techniques Mooney developed to create Warther handcrafted kitchen knives.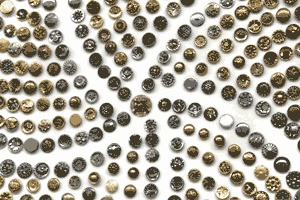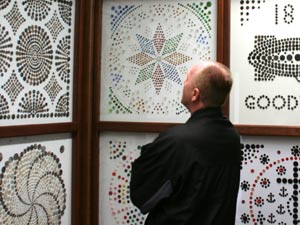 The Button Collection
Freia Warther spent her life collecting buttons and amassed over 100,000 buttons while creating a unique display of 73,282 buttons that are displayed on the walls and ceilings of her little "button house" on the museum grounds. Freida began her button collecting at the age of 10 and collected for the next 83 years. She collected about every type of button including: hand-painted ceramic buttons, Goodyear rubber buttons, pearl buttons, brass military buttons, celluloid buttons, calico buttons and even a button from Mrs. Lincoln's Inaugural Dress. After her children were grown, Freida started laying her buttons out in her own unique designs and quilt patterns. Once the buttons were laid out, she sewed all them onto boards by hand.
Ernest Warther's Fine Locomotive Carvings
The New York Central Railroad heard about Mooney's carvings and in 1923 made him an offer to exhibit his models on a special train. Mooney quit his job after 23 years at the local steel mill and toured the country displaying his carvings for 6 months. After that, he displayed them in Grand Central Station in New York City for another 2 1/2 years.

The Lincoln Funeral Train was Ernest's last large project and was completed in 1965 on the 100th anniversary of Lincoln's assassination. The train took a year to complete working 14 hours a day, 7 days a week and it is over 8' long. This project was of special significance to Ernest in that he never new his father and had adopted Abraham Lincoln as his idol.
During his time working with the railroad, he talked about his carving and made souvenir pliers for the showgoers (replicas of these pliers are available in the gift shop). At the close of the show the railroad offered him $50.000 for his carvings and $5000 a year to remain with the display at the station, but he declined their offer. He also received an even more handsome offer from Henry Ford but turned that down too. He replied, "My roof doesn't leak, I'm not hungry and my wife has all her buttons."
The Warther Property
The Warther property has several buildings and gardens. The main building holds the Warther Museum and carving display, the factory, and the gift shop. Below the buildings is a small park with a small switcher engine, signal shack and B&O caboose.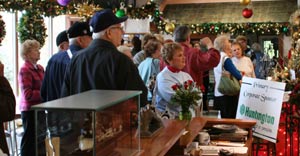 Warther Museum & Knife Shop Hours
Summer (Mar. 1 – Nov 30.):
Open 7 Days a Week 9 a.m.- 5 p.m.
Last tour starts at 4 p.m.
December (Dec. 1 - Dec 31):
Open 7 Days a Week 10 a.m. - 4 p.m.
Last tour starts at 3 p.m.
Winter (Jan. 1 – Feb 28):
Monday-Saturday 10 a.m.- 4 p.m.
Last tour starts at 3 p.m.

2007 Holiday Closures:
New Year's Day - January 1
Easter - April 16
Thanksgiving - November 23
Christmas - December 25
Warther Museum
331 Karl Ave., Dover 44722
(330) 343-7513
See also:
J.E. Reees Victorian Mansion in Dover