Fredericksburg
Fredericksburg is a town of less than 500 people and was named for its founder Jacob Frederick who laid out the town in 1824. The area around Fredericksburg was also known for the French Catholic farming community that was established in 1832 by Claude Druhot.
Fredericksburg is home to Mrs. Millers Homemade Noodles that was started here back in 1973.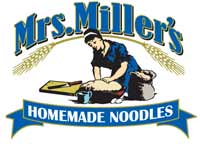 Esther Miller developed a love of cooking and entrepreneurship from her mother who had long been a supplier of homemade noodles for local grocers. Looking for a way of improving the noodle manufacturing process, she spent hours in her kitchen solving the intricacies of noodle making that could be applied on a larger scale. For 18 years Esther and her husband, children and few helpful friends made noodles in her basement and then delivered the to local groceries and bulk food stores.
In 1990, having outgrown their family basement, the Millers purchased another building and converted it over to much larger noodle making enterprise. Today their enterprise is still located in Fredericksburg and they still manufacture a number of homemade pastas, plus sell jams, jellies and coffee.
Kokosing Lake Wilderness Area
Just northwest of Fredericksburg is the Kokosing Lake Wilderness Area which includes a 150+ acre shallow lake developed by the U.W. Army Corps of Engineers for flood control and recreation in the 1970s. Limited camping sites are available and the area is managed by the Ohio Department of Natural Resources.