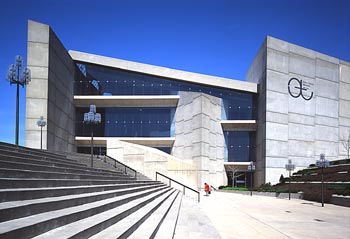 E. J. Thomas Performing Arts

Hall

The E. J. Thomas Performing Arts Hall, built by The University of Akron and a group of dedicated community leaders, is an outstanding performing arts complex and cultural center. Since its first season in 1973, the Hall has exceeded expectations and grown in stature as a cultural and community center for northern Ohio.

The Hall was named in honor of Edwin J. Thomas, retired Chairman and Chief Executive Officer of The Goodyear Tire & Rubber Company, long-time member of The University's Board of Trustees and a leading driving force for community progress for more than a half century.

The three-level auditorium, features continental seating, has a seating capacity of 2,955 and one of the focal points of the building is the movable 44-ton ceiling which can close off either the Flying Balcony or both the Flying Balcony and Grand Tier creating a 1, 2, or 3 level auditorium.
E. J. Thomas Performing Arts Hall
198 Hill St.
Akron, Ohio
(330) 972-7570

Hours:
Monday-Friday, 10:30 a.m. to 6 p.m.
Saturday, 10 a.m. to 2 p.m.
Summer Hours:
Monday-Friday, 10 a.m. to 4 p.m.
Edwin J. Thomas
Mr. Thomas rose from stenographer to chairman in his 55-year career at Goodyear. He joined Goodyear in 1916 while a senior at high school. He later became superintendent of the Goodyear plant in Los Angeles and in charge of the company's operations in Britain before his election as president in 1941. He was named chief executive officer in 1956 and chairman in 1958. He stepped down from the chairmanship in 1964, and from the board of directors in 1971.