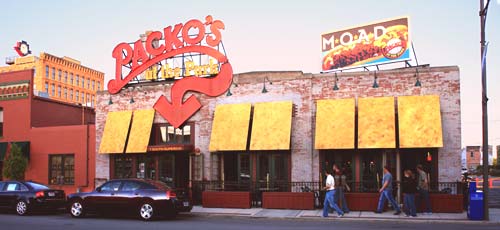 Tony
Packos
The son of Hungarian immigrants, Tony Packo was a native East Toledoan. Tony was born in 1908, just a stone's throw from Consaul and Genesee Streets. Although Tony Packo started out as a factory worker, that changed when, in 1932, he and his wife got a $100 loan from relatives. No small feat, mind you, for this was during the hardest of hard times, the first years of the Great Depression. That same year he opened a sandwich and ice cream shop just around the corner from the place he was born.
Tony had learned the restaurant business working for his older brother John, who owned a place across Consaul Street in what is now Tony Packo's parking lot. There was no beer at Packo's that first year. Prohibition would not be lifted until 1933.
Because Tony was Hungarian-American and lived in a Hungarian neighborhood, Tony's creation was called the Hungarian Hot Dog. Until Toledo-born Tony invented it, there was no such thing as a Hungarian Hot Dog, say those who know the Old Country's food.
Packo's food was an instant hit in the neighborhood. Within months of opening, Tony and Rose knocked out a wall and expanded their first shop, in what is now called the Consaul Tavern. By 1935, success had taken them to the point where they could buy a building of their own. They purchased the wedge-shaped establishment at Front and Consaul. The building houses part of today's Tony Packo's, but with a few more additions. The restaurant is still run by the Packo family: Tony and Rose's children; Tony Jr. and Nancy, and Nancy's son, Robin.
Tony Packo's - Front Street Restaurant (MAP)
1902 Front Street
Toledo, Ohio 43605
M-Th: 11am - 10 pm
F-Sat: 11am to 11 pm
Sun: Noon - 9 pm
(419) 691-6054
Packo's at the Park
7 South Superior St.
Toledo, Ohio 43602
M-Th: 11am - 10 pm
F-Sat: 11am to 11 pm
Sun: Noon - 9 pm
(419) 246-1111
Toledo Packo's Cafe
5827 Monroe St.
Sylvania, Ohio 43560
M-Th: 11am - 9 pm
F-Sat: 11am to 10 pm
Sun: Noon - 9 pm
(419) 885-4500
Maumee Packo's Express (in the Anderson's)
530 Illinois Ave
Maumee, Ohio 43537
(419) 897-3647
M - Sat: 10am - 9pm,
Sun: 10am - 6pm
West Toledo Packo's Express (in the Anderson's)
4701 Talmadge,
Toledo, Ohio 43623
(419) 472-4454
M - Sat: 10am - 9pm,
Sun: 10am - 6pm
Jamie Farr & Tony Packos
Farr, a native Toledoan himself, appeared in the television show "M*A*S*H," playing Corporal Max Klinger, a medical corpsman from Toledo. In the episode that made Packo's future, a man playing a television newsman talked to Klinger about his hometown. Farr wrote a little local color into his reply. The lines read:
"If you're ever in Toledo, Ohio, on the Hungarian side of town, Tony Packo's got the greatest Hungarian hot dogs. Thirty-five cents..."
Thus a new epoch began. The name appealed to the scriptwriters, who wrote Packo's into 5 subsequent episodes. In one show, the mobile hospital unit asked Packo's to send sausage casings to be used in a blood-filtering machine. Packo's was also mentioned in the final MASH episode in 1983.