Wellington
Ohio
Located just 10 miles south of Oberlin, is Wellington at the intersections of SR 58 and SR18. Settled in 1818 by five men from Connecticut and New York, Wellington's rich history is full of action and excitement. Today, Wellington is a growing village with approximately 4,800 residents. Businesses, industries, and organizations have come and gone over the years, but there is still plenty here and the groundwork for future growth is being planned and constructed.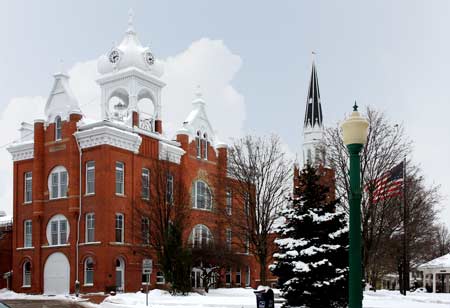 Wellington Town Hall built in 1885
At one time Wellington was known for being a large cheese producer and was known as the Cheese Capital of America with more than 40 factories producing cheese. In fact, every year on the 3rd weekend of July, they celebrate that heritage by having the Wellington Cheese Festival.
Wellington was also home to Archibald Willard who painted the world famous painting "The Spirit of '76". Today there is a museum dedicated to the painting. The original painting is now located in Marblehead, Massachusetts. It is said that Willard painted "The Spirit of '76" in Wellington after he saw a parade pass through the town square and used his father as the model for the central character in the painting.
Today, Wellington is known for its charming residential architecture, particularly on South Main Street where a collection of 19th and early 20th Century buildings still exist. Fine examples of Greek Revival, Gothic Revival, Italian Villa and Italiante can be seen from S. Main.
Click here for a walking tour map of Wellington's South Main Street Homes >>