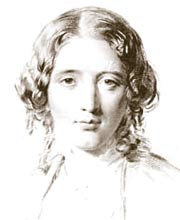 Harriet Beecher Stowe
Harriet Beecher was born in 1811, the 7th child of a well-known protestant preacher. In 1836, Harriet married widower Calvin Stowe and they eventually had 7 children. Stowe helped to support her family financially by writing for local and religious periodicals. During her life, she wrote poems, travel books, biographical sketches, and children's books, as well as adult novels. She met and corresponded with people as varied as Lady Byron, Oliver Wendell Holmes, and George Eliot. She died at the age of 85, in Hartford Connecticut.
In 1832, the Beecher family moved to Cincinnati, where her father, Lyman Beecher, had accepted a position as president of Lane Theological Seminary. Harriet accompanied her father. While in Cincinnati, she met Calvin Stowe, a professor at the seminary. They fell in love and were later married.
It was also during this period living in Cincinnati that Stowe became an abolitionist. Kentucky was a slave state, and Ohio was free, but not without more than a few sympathetic to the rights associated with slave states.
Thousands of runaway slaves passed through Cincinnati as they traveled north to freedom and safety along the Underground Railroad. While in Cincinnati she became friends with several Ohio abolitionists, including John Rankin, whose home in Ripley, Ohio served as a stop on the Underground Railroad.
The stories she heard from runaway slaves and Underground Railroad conductors while living in Cincinnati served as the basis for her book, Uncle Tom's Cabin.
While she wrote at least 10 adult novels, Harriet Beecher Stowe is predominantly known for Uncle Tom's Cabin, first published in 1852. The novel actually began as a serial for the Washington anti-slavery weekly, the National Era, it focused public interest on the issue of slavery, and was intensely controversial throughout the country.
While living in Cincinnati, Harriet became a member of the Semi-Colon Club, a local literary society in which members wrote articles then discussed by other participants. Her experiences in this club sharpened her writing style. During her early married years, Harriet began publishing stories and magazine articles to supplement the family income. She also co-authored a book, Primary Geography for Children. After the publication of this book Harriet received a special commendation from the bishop of Cincinnati because it conveyed a positive image of the Catholic religion. Harriet's religious tolerance was unusual for Protestants at the time.
In 1850 Professor Stowe joined the faculty of his alma mater, Bowdoin College in Brunswick, Maine and the Stowe family moved to Maine and lived in Brunswick until 1853.
Following publication of the book, she became a celebrity, speaking against slavery both in America and Europe. She wrote A Key to Uncle Tom's Cabin in 1853 documenting the realities on which the book was based, to refute critics arguing it was inauthentic. She published a 2nd anti-slavery novel, Dred in1856. In 1862, she visited President Lincoln and legend claims that he greeted her as "the little lady who made this big war":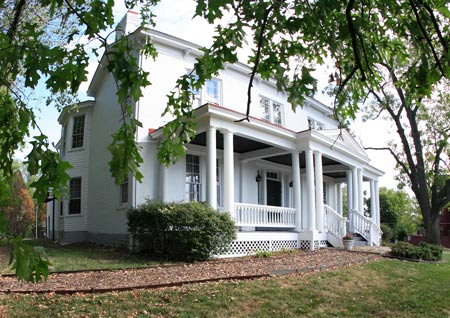 Harriet Beecher Stowe's Cincinnati House
The house 2950 Gilbert Avenue was the Beecher's home while they lived in Cincinnati for nearly 20 years, from 1832 to the early 1850's, before returning East. Shortly after leaving Cincinnati and basing her writing on her experiences in Cincinnati Harriet authored her first book. Published just after the draconian fugitive slave laws were enacted by the US Congress in 1850, the book made Harriet Beecher Stowe's name a household word in the United States. Uncle Tom's Cabin has been published in over 75 languages and is still an important text used in schools all over the world. Written at a time when women did not vote, have legal rights, or even speak in public meetings, Uncle Tom's Cabin became an important part of the social fabric and thought that eventually caused the Civil War to break out and the southern slaves to be emancipated by President Abraham Lincoln, effective in 1863. Uncle Tom's Cabin is a remarkable example of how one person can make a huge impact to improve the lives of millions of people.
Today, the Stowe House offers cultural events and programming. The House and grounds are available to groups for rental, for both meetings and special events.