Lincoln Goodale
Dr. Lincoln Goodale and his mother arrived in Franklinton in 1805 (now part of Columbus, just west of the Scioto River and Broad Street). At that time central Ohio was still a wild and unsettled place. Early settlers lived in fear of Indian attacks, and as late as 1811 there was not one church, schoolhouse, pleasure carriage or bridge over any stream within 100 miles.
Physicians of the time had to reach patients by crossing streams on horseback (or even swimming across) and traipsing through dark forests in the middle of the night using only the stars to guide them to a patient's cabin in the woods. The Franklinton homesteaders frequently suffered from fevers and other sicknesses but were blessed in the early days with not one but four physicians: Dr. Lincoln Goodale, Dr. John Bull, Dr. Samuel Parsons and Dr. John Edmiston. Dr. Goodale is considered to have been the first of these four physicians to practice in Columbus and Franklin County.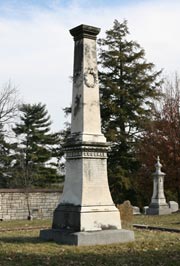 Dr. Goodale was also a successful businessman whose wealth and generosity allowed him to provide free medical care for the poor. He was also the founder of Capital University and Trinity Episcopal Church.
Lincoln Goodale never married, but his sister Cynthia, married the founder of Worthington, Colonel James Kilbourne in 1808.
Lincoln Goodale died on April 30, 1868, at the age of 85. On Saturday, May 2, 1862, the day of his funeral, the Columbus City Council passed a public resolution recognizing his many gifts to the city and charities to the poor. Originally buried in Franklinton Cemetery, he was moved to Green Lawn Cemetery in the 1880's.
Goodale Park
One of Lincoln Goodale's greatest gifts to Columbus lives on today through Goodale Park. It is generally considered to be Columbus' first city park even though the land for Livingston Park was owned by Columbus earlier. Goodale offered the acreage to the Columbus City Council on Bastille Day, the French liberation day, July 14, 1851. The deed transferring the land and its conditions was signed and filed in November 1851.
Goodale Park Today
Although Goodale Park contains an expansive playground and tennis courts, the park's main attraction is its view of the Columbus skyline and the serenity offered alongside a scenic pond and the charm of the gazebo and its historic park shelter.