Morgan County
Avisit to Morgan County would not be complete without dropping by to see Big Muskie one of the few remaining vestiges of the great strip mines that once dominated eastern Ohio. Now that those giant swathes of land have been reclaimed, they have become a sanctuary for wildlife and visitors looking to enjoy the great outdoors.
Morgan County has about 60,000 continuous acres of free hunting, fishing, hiking and camping opportunities. To accomodate these visitors are lots of cabin hideaways. The county dates back to 1817 when it was created from parts of Washington, Muskingum, and Guernsey. McConnelsville is the county seat of Morgan County.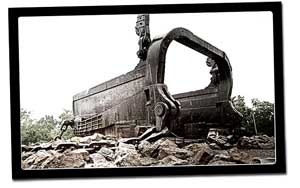 BIG MUSKIE and the Miner's Memorial Park
Once mining was stopped, Big Muskie remained a tourist attraction for a number of years until legislation required the equipment to be completely dismantled and removed. There was an effort to save Big Muskie, but those efforts failed except for saving Big Muskie's bucket which now is all that remains of the equipment. Read more...
STOCKPORT MILL & INN
Built in 1906, it is the last mill remaining on the Muskingum River. The fully renovated Mill opened in 2000 as a country inn and restaurant with beautiful views of the river.
TWIN CITY OPERA HOUSE
The Twin City Opera House is located in McConnelsville on Ohio State Route 60, along the Muskingum River, about midway between Zanesville and Marietta.
More about McConnelsville...
BURR OAK STATE PARK
The park features a lodge, 30 family cottages and 17 electric camping sites, 78 non-electric camping, 664 acre lake with boating for motors of 10 HP or less. Boat rentals, fuel and dock rentals are available at the marina. There are 7 hiking trails, 3 bridle trails and the Buckeye Trails passes through the park. Burr Oak Lake was created by the construction of the Tom Jenkins Dam across the east branch of Sunday Creek in 1950.
Nearby is Wayne National Forest and Sunday Creek Wildlife area.
BIG BOTTOM STATE MEMORIAL PARK
Named for the broad Muskingum River flood plain, this park is the site of a raid by about twenty-five Delaware and Wyandot warriors on an Ohio Company settlements on January 2, 1791. The American Indians were attempting to halt the encroachment of European-Americans onto their tribal lands. The raid outraged the United States government and led to four years of bitter warfare, which ended with the defeat of the tribal coalition at the Battle of Fallen Timbers and the signing of the Treaty of Green Ville.
MORGAN COUNTY SCENIC HIGHWAY
State Route 78 runs 105 miles from Nelsonville to Clarington. Car and Driver called it one of the most scenic highways nationwide. The stretch of this highway that runs along the south side of Burr Oak State Park in Morgan County, Ohio, is well known for its extreme curves and views, and is sometimes locally referred to as the "Rim of the World." Much of this highway runs through old coal-producing areas.
HELMICK MILL COVERED BRIDGE
The Helmick Mill Covered Bridge was built in 1867 and restored in 2008. It has a multiple Kingpost truss and is 74 feet long. The bridge is located on Merlirk Road, southwest of Eagleport.
RE-CREATION LAND
The American Electric Power's ReCreation Land is Ohio's largest privately owned recreation land measuring over 30,000 acres. This land was once part of eastern Ohio's strip or surface mining operations. Once those operations ended, the land was reclaimed and made availabe to the public for hunting, fishing, hiking, mountain biking, birding, and horse back riding. There are over 300 ponds on the property and miles of trails.

Morgan County's Namesake
The county was created from parts of Washington, Muskingum, and Guernsey counties and named after General Daniel Morgan, an important officer in the Revolutionary War.
In the early days of the war, Morgan was involved in the invasion of Canada, and there he was captured along with 372 other men. He remained a prisoner of war until 1777 when he was parolled and then rejoined Washington.
Although involved in numerous battles throughout the war, Morgan is perhaps best known for his strategic defeat of Colonel Tarleton at the Cowpens. After that battle Morgan retired because of an inflamation, but actually rejoined the army to help General Lafayette's effort to engage General Cornwallis, which ultimately led to Cornwallis' surrender at Yorktown.
Perhaps Morgan is best known as being one of the characters drawn upon to create Mel Gibson's character in the movie "The Patriot." Gibon's character was losely based upon Daniel Morgan, Francis Marion and Thomas Sumter.