Nelsonville
The pretty little town in northwestern Athens County was at one time a thriving metropolis during the Hocking Valley coal boom of 1870-1925. Nelsonville was the central point for transportation shipping more than $1 million of coal a day in 1910. After decades of decline, Nelsonville has reinvented itself as the regional art center of Southeast Ohio.
Daniel Nelson was the founder of Nelsonville. It was his donation of land for the Fort Street Cemetery, Public Square and the lot for the local school and meeting house that helped create Nelsonville in 1856.
In July of 1863, confederate General John Morgan and 400 cavalry came through Nelsonville. They stayed only long enough to loot the town, set fire to most of the canal boats that were in the canal basin of the Hocking Canal, set fire to the covered bridge in an attempt to slow down the Union forces chasing them, and steal all the horses they could find. As soon as the rebel cavalry left, the townspeople of Nelsonville came out and put out the fire of the bridge just in time for the Union cavalry to quickly cross and continue their pursuit of Morgan's Raiders. Morgan and his men would finally be captured 4 months later in Salineville, Ohio.
Nelsonville's Historic Square Arts District
Spend some quality time shopping for art, made in Southeast Ohio. Many of the shops and galleries offer private lessons and workshops for those feeling the urge to be creative. The Square is a historic treasure and a reminder to visitors of the activity that was once part of this bustling coal mining community.
Nelsonville is located about halfway on State Route 33, between Columbus and the Ohio River and about 13 miles north of Athens. Like many of the small communities along SR33, you have to get off the main drag to really get a feel for this town.
At the heart of the town is the village green and fountain, surrounded by buildings that date back to the 1870s and they still have a strong architectural flare. Around the Historic Square are a host of businesses such as "The Mine Tavern," "Stuart's Opera House," "Dew House," and numerous art galleries.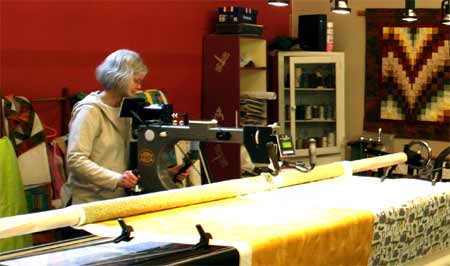 Nelsonville Quilt Company
This is Southeastern Ohio's premiere quilt shop that carries over 1500 bolts of fabric for just the right patch to complete your perfect quilt. Classes and personal instruction are provided on a regular basis.
52 W. Washington St.
Outback Gallery and Gifts
Amazing art from Southeast Ohio and from around the world. Most of their art features a travel or nature theme.
30 Public Square
Paper Circle
Dedicated to the preservation and advancement of paper and book arts. The gallery hosts a variety of programs, workshops, and gallery shows throughout the year.
35 W. Columbus St.
Rocky Outdoor Gear
Rocky Outdoor Gear is a world leader in rugged outdoor footwear.
45 Canal St.
Final Fridays on the Square
On the last Friday of the month (except December) galleries and retail shops on Nelsonville's Historic Square stay open late to feature special art events. From 6:00 pm to 10:00 pm, enjoy artists' demonstrations, art chats, artists at work in their studios and openings of new art exhibits, plays and musical shows.
Haydenville
Just north of Nelsonville, is a small community named Haydenville. Haydenville was named for Columbus businessman Peter Hayden who owned the Haydenville Mining and Manufacturing Company. The town was built to showcase the clay products manufactured there by the company. The entire town is just 200 acres, with 121 buildings and was placed on the National Register of Historic Places in 1973.
Some of the old kilns used in manufacturing Hayden's clay products can still be seen there as can a round house built of bricks used to show case how Hayden's products could be used in building construction.
Also nearby is the Haydenville Methodist Church which was built using every style of brick produced at the Hayden plant which makes for a very interesting effect.
Wayne National Forest
Nelsonville is located almost in the center of the Wayne National Forest, Ohio's only national forest. Consisting of over 230,000 acres, Wayne National Forest offers a wealth of natural recreation opportunities such as fishing, bird watching, equestrian riding and of course, hiking. Wayne National Forest offers over 300 miles of trails open to hiking. There are also trails for mountain biking and ATV use. Much of the Wayne National Forest land is reclaimed coal mining lands which has been purchased by the federal government.
Nearby is the Big Bailey wetland area which is located on the Athens Ranger District of the Wayne National Forest. The approximately 6-7 acre wetland is located at the junction of Big Bailey Road (County Road 29) and Carr Bailey Road. Located in northern Athens County, one mile north and west of Chauncey, Big Bailey has existed ever since the mine-operated railroad was abandoned about 70 years ago. Today it provides habitat for a wide diversity of bird, reptile, amphibian and mammal species. A small Great Blue Heron rookery is located on the uppermost end of the wetland.
Sarah Jessica Parker
Nelsonville has had numerous notable dignitaries throughout its long history, but one of the most notable stars in recent years is Sarah Jessica Parker. Sarah was born in 1965 in Nelsonville to Barbara and Steven Parker. As a young girl she trained as a singer and studied ballet. Her family moved to Cincinnati and from their they moved to Dobbs Ferry, New York.