Morgan's Raid
Despite Ohio's major contribution to the Civil War in men and materials, many people believe the Civil War battles were only fought in other states. In 1863, Civil War fighting did come to Ohio. It was called Morgan's Raid, which included the Battle of Buffington Island as well as numerous other skirmishes throughout southern Ohio.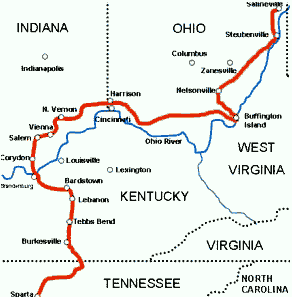 On July 8, 1863, Brigadier-General John Hunt Morgan, a Confederate cavalry leader, led approximately 2,500 soldiers across the Ohio River into southern Indiana and then across southern Ohio.
Morgan's superiors had dispatched the cavalry leader into northern Kentucky from Tennessee to cause disorder among the Union military. And disorder is what Morgan's Raiders caused, just not as much as they had hoped.
On July 13, as the Indiana militia descended upon Morgan's men, the Confederates quickly fled the pursuing militia and entered Ohio, near the Hamilton-Butler County line. In Montgomery, a village near Cincinnati, Morgan's Raiders received a chilly reception from defiant townspeople. With Northern forces closing in, Morgan's harried troops pushed on across Ohio.
Montgomery, Ohio
Montgomery Ohio is a city in Hamilton County, just north of Cincinnati. According to written accounts of Morgan's arrival into Montgomery went something like this: early in the morning of July 14, Morgan's young raiders entered Montgomery from the south on Montgomery Road. They then turned east into the rising sun onto Remington Road, proudly carrying the first national flag of the Confederacy and the Kentucky state flag. General Morgan, mounted on his big bay horse, Glencoe, his revolver in hand and wearing a plumed hat, leads his men through the center of town. Directly behind him is his brother-in-law, Colonel Basil Duke. Duke fires his revolver into the air to chase a determined and stoic citizens off the road.
Upon reaching the outskirts of Cincinnati and within sight of the Union Army located at Camp Dennison, Morgan and his men spent the night of July 13-14. Not willing to engage the Union Army stationed in Cincinnati, Morgan moved further east.
Governor calls out the Ohio Militia
As news of the Confederate Cavalry's advance across the Ohio River reached the Statehouse, Ohio Governor David Tod issued a proclamation calling out the Ohio militia to protect the southern counties from Morgan's Raiders, but by then it was already too late.
Hot on the trail of the Confederate raiders was the 45th Ohio Volunteer Infantry. It would be a chase across Ohio with an ultimate confrontation at Buffington Island just east of Pomeroy. Besides being pursued, the Confederates faced little opposition, burning bridges and stealing horses as they went until July 18 when they encountered a small earthwork, defended by Ohio militiamen. Severely outnumbered, the militiamen retreated under the cover of darkness. However, their presence had allowed Union cavalry, under Brigadier-General E.H. Hobson, to catch up to the Confederates.
Battle on Buffington Island
Hearing the news of Morgan's progress across Ohio, Union General Ambrose Burnside sent additional Union soldiers and gunboats to patrol the Ohio River. Sensing that the Union Army & Cavalry were beginning to close in on him, Morgan tried to cross the river back to the safety of Kentucky. That attempt to cross the Ohio was made at a ford near Buffington Island. However, heavy rains the week before had caused the river to rise and made the crossing more difficult than it would have been otherwise. The Confederates succeeded in getting a small number of men across the river before Union gunboats and soldiers under Hobson and General H.M. Judah arrived.
A battle ensued at Buffington Island. The 3,000 Union forces greatly outnumbered the 1700 soldiers attached to Morgan. Some uncertainty exists about the details of the battle. Morgan hoped to lead his men across the Ohio River, and Union soldiers and gunboats intercepted him. Morgan failed to file a battle report, and the Union officers involved left out many details in their final reports. Estimates for the number of wounded or killed Confederates range from 52 - 120 men. Union soldiers captured an additional 800 - 1,200 men. Among those captured men was Morgan's brother-in-law. Northern soldiers lost 25 men in the battle.
Morgan's remaining men managed to break through the Union lines and continued in a northerly direction along the Ohio River, hoping to find a place to cross. Twenty miles from Buffington Island, Morgan's Raiders found an unprotected crossing. Several hundred of the Confederates succeeded in crossing the river before Union gunboats arrived and stopped the crossing. Morgan himself was almost across the river, but he decided to retreat back into Ohio with the men that hadn't been able to get across.
Morgan's Capture and Escape
Morgan and his remaining soldiers retreated westward through Meigs and Gallia Counties and then moved in a more northeasterly direction through Vinton, Hocking, Athens, Perry, Morgan, Muskingum, Noble, Guernsey, Harrison, Jefferson, Carroll, and Columbiana Counties.
In Nelsonville, the confederate raiders set fire to a bridge and stole a number of horses and burned a number of canal boats docked next to the town. At Salineville, in Columbiana County, Union Cavalry under the command of Major W.B. Way and Major G.W. Rue surrounded Morgan's Raiders and succeeded in capturing Morgan and most of his command. Morgan's capture marked the end of his raid of the North.
Once captured, Morgan and his officers were taken to Columbus and imprisoned in the Ohio Penitentiary, arriving on October 1.
From the Columbus Journal came this account of Morgan's arrival in Columbus:
The train carrying the prisoners arrived in Columbus in the afternoon. A detachment of the Provost Guard had been detailed to keep the road from the track to the Penitentiary clear of people —a measure that was absolutely necessary, considering the large crowd that had gathered. It required but a few minutes for the Guard, under command of Lieutenant Irwin, to conduct the prisoners to the Penitentiary, where General Mason turned them over to N. Merlon, Esq., the Warden, who received his charge with as much grace as the circumstances would allow.

The examination of the prisoners which followed was a tedious process, but was not devoid of interest. It was conducted with due regard for the feelings of the prisoners, and at the same time it was very minute. One fellow was compelled to hand over a watch he had concealed in one of his pantaloon legs, between the lining and the cloth, while others handed over articles, including greenbacks and " Confederate scrip." These things will at the proper time be returned to those from whom they were taken, unless they were a part of their stealings in their late raids. Morgan himself had several hundred dollars in money, and what he considered as money, the greater part of which consisted of greenbacks.

As the examination of each prisoner was completed, he was marched to the wash-house, where he was required to give himself a "scrubbing," and from thence he was taken to his cell. Morgan, who was the first one to pass through this ordeal, did so with as much indifference as he could command, which, however, was but little; for as he passed into the ante-room that leads to the cells, his step was far from being as firm as one would expect, not-withstanding his efforts to the contrary. The prisoners are to be governed by the rules of the prison, which will prevent them from talking with each other. Their beards have been shaven in accordance with these rules, and they will doubtless find themselves otherwise inconvenienced by them. They will receive the same treatment as other prisoners receive, which is all they ask, and which is better than has been done to many a Union soldier who has died in some Southern prison. They will be closely confined to their cells, though they will doubtless be allowed to take some exercise each day. We understand that details from the Provost Guard will keep close watch over them.
The rest of Morgan's men were were taken to Camp Chase. He and several of his men immediately made plans to escape. They tunneled out of their cell into an air shaft on November 13, 1863. They remained in their cell until November 27, when Morgan and 6 of his soldiers utilized the air shaft to reach the prison yard. They then fashioned a rope from their prison uniforms and scaled the wall. Utilizing some of the $1000 his sister had smuggled into the prison inside a Bible.
Morgan purchased a train ticket to Cincinnati. He then made his escape across the Ohio River into Kentucky. Despite a $5000 reward for his capture, Morgan made it safely to South Carolina where his family was living. Morgan returned to service in the Confederate military but was killed just 6 months later.
Morgan's Last Raid
On the last day in May, he sent a message to the Confederate War Department informing them of a plan to conduct a raid into Kentucky for horses. The raid proved to be a complete failure, not capturing a single horse. The raiders did destroy a number of civilian farms and buildings. On his way back to Virginia, the raiders stopped in Greenville, Tennessee. There, they were surprised by men from the 13th Tennessee Union Cavalry. Although Morgan tried to surrender, they were fired upon and Morgan was killed instantly. He was buried in Richmond. Three years after the war, his remains were taken back to his native Kentucky for a final resting place.
Results of Morgan's Raid
Back in Ohio, over 4,000 Ohioans filed claims for compensation with the federal government for items that they lost to Morgan's Raiders. The claims amounted to $678,915. Although Morgan and his raiders traveled more than 700 miles through Indiana and Ohio in 25 days, there was little gained by the Confederates. The escape of Morgan and his men from the Ohio Penitentiary, resulted in even harsher restrictions and punishments being put on prisoners of war being held in the prison and at Camp Chase.