Point Pleasant
Located along the Ohio River, around 25 miles southeast of Cincinnati, Point Pleasant is best known as the birthplace of Civil War General and 18th President of the United States, Ulysses S. Grant. Although when he was born here back in 1822, he was known as Hiram Ulysses Grant. Grant only lived here for a year or so before the family moved to Georgetown, a little further away. As a young boy, Grant was known by his initials Hug. It wasn't until he enrolled as a cadet and the military academy that his name was changed out of simple ignorance.
Grants father wanted to see his son attend the US Military Academy at West Point, but to get in he had to be recommended by someone of influence. He made an appeal to Congressman Thomas Hamer. It was Hamer who changed the name for whatever reason, it has been lost in time. What we do know is that on the admission papers, Grants name was changed to Ulysses Simpson Grant (Simpson was Grant's mothers maiden name).
Ulysses S. Grant Birthplace
On scenic route U.S. 52 (Grant Memorial Highway) you will find the birthplace of Ulysses S. Grant, Union General and 18th President of the United States. The home is placed on the National Register of Historic Places. It includes historic memorabilia and period furnishings.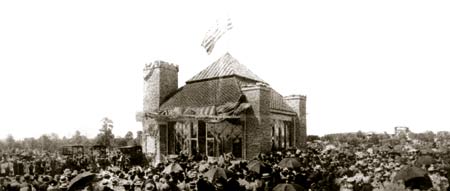 This restored one-story, three-room cottage, which was built in 1817, was next to the tannery where Grant's father worked. The small cottage is furnished with period items. At one time the birthplace made an extensive tour of the United States on a railroad flatcar and was also temporarily displayed on the Ohio State fairgrounds.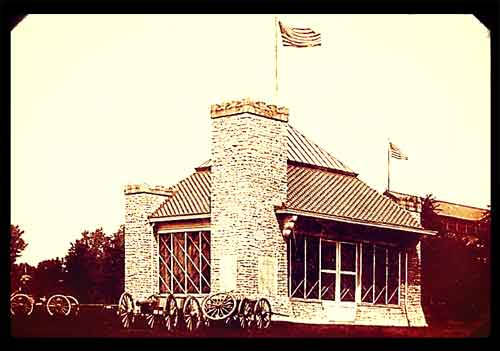 US Grant Birthplace Pavilion on the Ohio State Fairgrounds
Location
Grant Birthplace is in Point Pleasant, in Clermont County, just off of U.S. Route 52 about five miles east of New Richmond.
Grant Birthplace
New Richmond, OH 45157
Phone: 513-553-4911
Grant Memorial Bridge
Just east of Grant's birthplace, is the Grant Memorial Bridge that spans Big Indian Creek. The bridge was originally a steel truss structure which was dedicated in October, 1927. In 1985 it was replaced by a new bridge without the truss structure, but it did retain the cannons, beacons and stone work that were part of the original bridge.