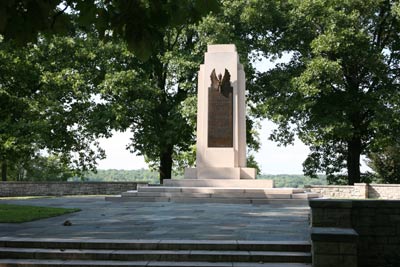 Wright Brothers

Memorial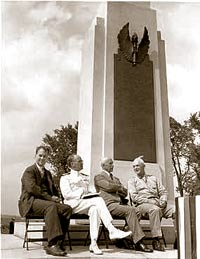 In 1924, the Dayton Air Service Committee acquired Tate Hill, as part of the 4,500 acres it donated to the U.S. Government for the creation of Wright Field. The hill was set aside for a memorial honoring the Wright Brothers.
Through the combined efforts of the Miami Conservancy District, the Wilbur and Orville Wright Memorial Commission, the Civilian Conservation Corps, and the U.S. National Park Service, the memorial and surrounding park, renamed Wright Brothers Hill, were designed and constructed by the Olmsted Brothers architectural firm. Orville Wright and several of the 119 students he taught to fly on the Huffman Prairie Flying Field were present for the August 19, 1940 (Orville's 69th birthday) dedication ceremony. (Orville is 2nd from right in the photograph)
In 1974, the site was listed in the National Register of Historic Places due to several prehistoric Adena Indian mounds adjacent to the memorial. Bronze tablets commemorate the mounds, Wright Field's history, and list the students the brothers trained on the Huffman Prairie. The Miami Conservancy District transferred the park and memorial to the Air Force in 1978 as part of the 75th anniversary of powered flight. A display case near the stone wall overlooking Huffman Dam illustrates the history of Huffman Prairie and the Memorial.
The Wright Brothers Memorial is open daily during daylight hours.
The Wright Brothers Memorial
2380 Memorial Road, Wright-Patterson Air Force Base 45433
(937) 425-0008