National Museum

of the USAF

Located near Dayton Ohio, the National Museum of the United States Air Force presents military aviation history in a gallery format, with over 400 vehicles on display in this free to the public museum.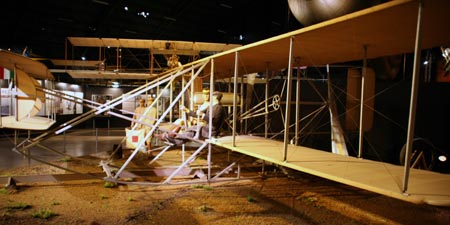 See many rare and one-of-a-kind aircraft, including a Wright Modified B Flyer used to train new pilots in 1916, an Apollo space capsul that circled the moon, a U2 spyplane,
The museum is divided up into 8 major galleries that include Early Years, World War II Air Power, Modern Flight, Cold War, and Missile & Space. The Presidential, Research and Development, and the Air Park are located in other areas. The Air Park is located outside on a nearby runway. The Presidential, Research & Development Galleries are only accessible by bus tours that must be reserved.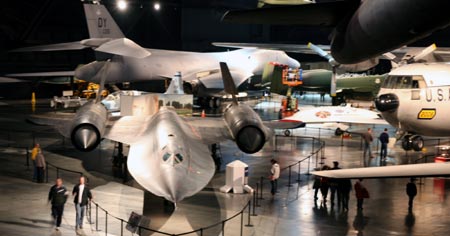 The museum is in 3 large buildings plus the IMAX theater near the front entrance and the Missile/Space Gallery tower. The museum is a large complex with lots of walking.
On Your Own Tours
The museum is open 9 a.m. - 5 p.m. seven days a week, except for Thanksgiving, Christmas and New Year's Day. Admission is free. Once there, you are free to walk among the exhibits on your own.
Guided Tours
Guided toures are offered daily at 1:30 p.m. On Saturdays, guided tours are available at 10:30 a.m. and 1:30 p.m. Tours begin at the entrance.
Behind the Scenes Tours
Every Friday you can take the Behind the Scenes Tour at 12:15. You MUST pre-register for this tour prior to Wednesday and be at least 12 years of age (12-18 participants must be accompanied by adult.) A government issued photo I.D. is also required for all participants.
Galleries
The museum is full of visually strikin exhibits from the early days of manned flight to the present. All exhibits are arranged in galleries of related aviation history.
Early Years Gallery

Covers the earliest days of military avaiation up to the first years of World War II.

Air Power Gallery

World War II, the United States became an air power that led the world.

Modern Flight Gallery

Includes the use of airplanes in the Korean and Vietnam Wars and the development of unmanned aircraft.

Cold War Gallery

This is the latest gallery hangar added to the museum with over 200,000 sq. ft of display space.

Missile and Space Gallery

Includes in an impressive display of Intercontinental Ballistic Missles standing side-by-side.

Presidential and R&D Test Gallery

Includes 9 Presidential aircraft and visitors can walk through 4 of the them including Roosevelts, Trumans, Eisenhowers, and Air Force One, the plane that flew President Kennedy's body back to Washington D.C. from Dallas.
Museum Gift Shop
The Museum has a very large gift shop/bookstore with all kinds of collectibles for all ages. Visitors can find books, apparel, models, music, videos, toys, and artworks that all feature aviation.