Williamson Mound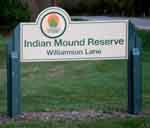 Williams Mound is located off SR 42 just west of Cedarville. It is part of the Greene County Park District. The actual mound is a .55 mile hike from the parking lot over a wooded trail that does include somewhat strenuous uphill climbs. The trail follows along Massie Creek through Peterson Park before turning sharply north and uphill atop a bluff..
The mound is thought to be an Adena Mound built between 500 BC and 100 AD. It stands about 30' high and is 140' in diameter.
Peterson Park is historic rest area. Besides Williamson Mound, the park also includes Pollock Works, Massie Creek Gorge, an 1800's log house and Cedar Cliff Falls. picnic shelter, gazebo, river access, hiking, partially handicap accessible, with limited facilities.
The Indian Mound Reserve is spectacular natural resource created with a blend of the gorge, meadow, woods, river and marsh, creating an amazing view. In early May there is a wildflower display featuring about 75 species, some of which are rare, including snow trillium.