Piqua

Ohio

Located north of Dayton on I-75, Piqua is a small community that was first laid out in 1807, but its history goes much further back in time. Piqua's history dates back to a previous settlement in 1747 called Fort Pickawillany located a mile northeast of the present city at the Great Miami River's intersection with Loramie Creek.

Piqua started out as two separate communities, Upper Piqua and Lower Piqua in 1780 becoming one community by 1800. Rossville (since incorporated into Piqua) was the first local African-American settlement after the Randolph slaves were freed following the passing of John Randolph in 1833. The Rossville neighborhood and Randolph cemetery are located on the northeast side of the river off North County Road 25-A.

Piqua was home to the first municipally-owned nuclear power plant, in operation from 1962 to 1966 earning its short lived nickname "The Atomic City." During this period a name brand automotive battery, the "Piqua Atomic Power Plant" was manufactured and marketed locally.

Piqua is believed to be a reference to the Shawnee Indian phrase: "Othath-He-Waugh-Pe-Qua" translated as "He has risen from the ashes!" The phrase is mentioned in a painting of a Native American rising up above the flames before a tribe of onlookers in a state of amazement. The painting is on public display inside the main office of Unity National Bank, the former Third Savings and Loan Association in downtown Piqua.
A long downtown fixture, the Orr-Statler Building at the corner of Main and High streets was erected in 1891 which for many years housed the now defunct Fort Piqua Hotel which closed in the 1980s. The building also provided a temporary home for Piqua National Bank which later moved to a newer building in 1929. That section of the building is now home to Joe Thomas and Sons Jewelers. Other local merchants have also located their businesses in the building over the years.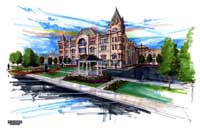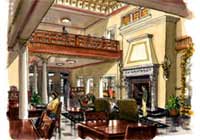 After years of disrepair and neglect, the building is currently undergoing a long awaited major interior renovation and will become the new home for Piqua's public library upon completion.
During the War of 1812, William Henry Harrison moved troops from the south and from Franklinton to Piqua and then north to confront the British at Fort Meigs.
During the 1820s and 30s, Piqua's Main Street became a hub of retail shops, taverns, public halls, and mills.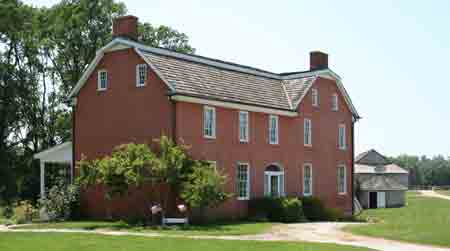 Johnston Farm
Nearby is the historic 200-acre park created from the farm of John Johnston. Johnston was a local farmer, public official, and United States Indian Agent for western Ohio from 1812 to 1829. Here Johnston's numerous contributions to the growth of early Ohio and settlement of frontier America are presented in a truly unique and beautiful setting.
Read more about the Piqua Historic Area and the Johnston Farm >>

Piqua Heritage Festival
A celebration of pioneer life, this festival offers the chance to step back into the 1800s. Visit a Native American village, mountain men rendezvous or French and Indian encampments. See demonstrations of basket weaving, woodcarving, quilting, and soap, pottery and rag-rug making. more than 100 artisans showcase and trade their wares.
The festival is usually held over the Labor Day Weekend. Small admission charge is required.
Piqua Heritage Festival
9845 N. Hardin Rd.
Piqua, OH 45356