NewarkOhio
Newark is home to cultural, historical and natural treasures that will entertain, amuse and educate. Highlights in Newark and the surrounding area include golfing, fishing, shopping, the Blackhand Gorge State Nature Preserve, the historic Buckingham Meeting House, the National Heisey Glass Museum, the Newark-Granville Symphony Orchestra, and the Downtown National Historic Register District.
Long before the first settlers arrived in the Newark area, it had been populated by a large population of Mound Builders. Later numerous Native American clans used the area for gathering flint and hunting.
In 1802, Samuel Elliott and Samuel Parr built the first cabins in what would later be called Newark. By 1804, approximately 20 families lived in Newark. In 1808, residents constructed Licking County's first courthouse. It was located on the same site where Licking County's courthouse is today. The original courthouse was a log structure that also served as a church.
In 1817, Presbyterians built the first separate church in the community. In 1830, Newark had a population of roughly 1000. In 1840, the population had almost tripled to over 2,700 people. Most residents earned their living from agriculture in Newark's early years. By the late 1840s, the town was home to 3 newspaper offices, ten grocery stores, two gristmills, an iron foundry, a wool factory, a bookstore, two hardware stores, as well as several other business establishments. Construction of the Ohio and Erie Canal began just south of Newark at Licking Summit in 1825. The canal led to local prosperity in the 1830's and 1840's.
Local attractions:
Webb House Museum
The Webb House Museum houses a family collection of antiques and art. Built in 1907 in the Arts and Crafts style, the interior of the house features beautiful wood paneled walls. The home still maintains the look of a private residence. Visitors may also enjoy the cottage gardens that feature many heirloom flowers. Hours: April-December, Thursday, Friday, Sunday 1-4 p.m. or by appointment.
Web House Museum
303 Granville Street
Newark, Ohio 43055
(740) 345-8540
William C. Kraner Nature Center
The Interpretive natural and cultural history offers displays where children and adults can get "up close and personal" with Licking County's "wild side." Research library and reservable conference room. A unique hands-on replicated archaeological dig site for kids and adults. "Wild Side" Exploration Kits for families, community groups and other visitors. A Hopewell Indian Burial Replica and model of the historic Rutledge Burial Mound. The Nature Center also has the Rookery Gift Shop.
William C. Kraner Nature Center
10380 Fairview Road
Newark, Ohio 43055
(740) 323-0520
Sherwood-Davidson House
Built around 1820, this museum was owned by only 2 families until 1947 when it was slated for demolition. Saved, moved and restored by the Licking County Historical Society, the house now features fine architectural details. Furnished with items from Licking County's past. Located in Veterans' Park. Hours: May-December, Tuesday-Saturday, 1-4 p.m. or by appointment.
Sherwood-Davidson House
6 N. 6th Street
Newark, Ohio 43055
(740) 345-4898
Develop an appreciation for the local Licking County history at The Works. The museum occupies the former Scheidler Machine Works factory building, built in 1861 for the manufacture of steam engines. Displays included a renovated interurban car, an operating wood shop and print shop plus rotating exhibits through its affiliation with the Smithsonian Institution and other national museums.
More information about The Works >>
Hours for The Works:
Tuesday - Saturday 9am - 5pm
Open Sundays, October thru April, noon - 5pm
Glass Blowing Demonstrations:
Tuesday - Friday at 10:30am, 1pm and 3pm
Saturday and Sunday 1pm and 3pm
The Works
55 South First Street
Newark, Ohio 43055
(740) 349-9277
The Great Circle Earthworks, formerly known as Mound builders State Memorial, was built by the Hopewell culture approximately 2000 years ago. The circle is nearly 1200' in diameter and used as a vast ceremonial center by its builders. The Great Circle is one part of the Newark Earthworks State Memorial, the largest system of connected geometric earthworks built anywhere in the world (Great Circle Earthworks south of Newark, off State Route 79 between Parkview Drive and Cooper Street).
Octagon Earthworks and Wright Earthworks are both additional local sites that preserve other features of this majestic remnant of prehistoric Ohio. A new visitor center will open in Spring 2008.
Read more about the Great Circle Mound >>
Newark Earthworks
455 Hebron Rd., SR. 79
Heath, OH 43056
(740) 345-8224
Nearby attractions
CoCo Key Water Resort
Located at the Cherry Valley Lodge along Route 16 between Newark and Columbus, has opened as a 50,000 square foot indoor water park. Inspired by Key West, Florida, yet a close to home getaway with 3 body and raft slides, water cannons, whirlpools, a Dip-in theater, Wet Rooster Bar, Key Quest Arcade, Cherry Valley Lodge rooms and suites, a restaurant, and more.
CoCo Key Water Resort
2299 Cherry Valley Road
Newark, OH 43055
(740) 788-1200 / (800) 788-8008
The pet friendly Arboretum is 1700 acres of over 15,000 living plants, hardy to Central Ohio. You can walk the 8 miles of trails, or take a relaxing 4 mile auto tour through the park. Every season brings a different view. Dawes Arboretum is located just south of Newark.
More information about Dawes Arboretum >>
Originally founded as Granville College, Denison was later named after a local farmer named Denison after he donated a considerable sum to the College. Founded as a Baptist institution, Denison for many years enjoyed the support of John D. Rockefeller, who sat on the college's board of trustees until the institution mandated that all trustees be Ohio residents. The campus is about 1,200 acres including a 500 acre biological reserve just east of campus.
More information about Denison University >>
Denison University
100 West College Street,
Granville, Ohio 43023
See the worlds largest basket that is actually the home corporate office of the Longaberger Basket Company. The basket is a replica, 160 times larger, of Longaberger's Medium Market Basket. It's 192' long by 126' wide at the bottom and spreading to 208' long by 142' wide at the roof line.
Read more about the Longaberger office headquarters and the restored homestead >>
The Granville Inn
Granville Inn is a historic English manor inn, and a landmark, in the heart of Granville. They offer a full-service restaurant and pub, guest rooms and suites along with banquet, meeting and catering services. Listed on the National Register of Historic Places, the inn's old-world charm, hand cut oak paneling, native sandstone and rural hospitality make it a place for great escapes.
The Granville Inn
314 Broadway E
Granville, OH 43023
For reservations (740)587-3333 (Closed Sunday)
Buxton Inn
Built in 1812, the Buxton Inn has been carefully restored and currently has 25 overnight guest rooms furnished in period antiques, with private baths, central air. The Buxton Inn also has dining and meeting rooms ranging in sized form twelve person to sixty person capacity. Lunch, Dinner and Sunday Brunch are offered year round, offering fine American/French cuisine to suit any taste. The Buxton Inn is reported to be haunted.
Buxton Inn
313 East Broadway
Granville, Ohio 43023
(740) 587-0001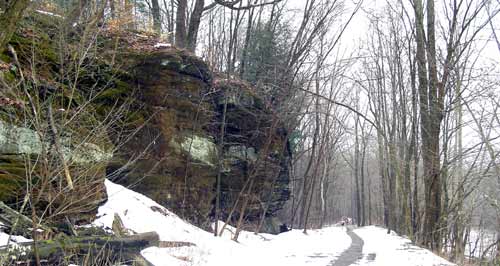 Blackhand Gorge State Nature Preserve is a 970-acre area dedicated as an interpretive nature preserve in 1975. This dedication process ensures that the area's scientific, educational and aesthetic values will be preserved indefinitely for use by all Ohioans. The name "Blackhand," for which the preserve is known, originated from a large, dark hand-shaped petroglyph that was engraved on the face of the sandstone cliff. Many Indian legends were passed on to early pioneers about the origin of the "black hand." Possibly the most prominent is the one that says the hand marked the boundary of a sacred Indian territory where no man was to raise his hand against another. The engraving was destroyed during the construction of the Ohio-Erie Canal towpath in 1828 when canal builders dynamited the cliff face.
Located in Licking County 8 miles east of Newark on State Route 16, exit southeast on State Route 146 and proceed 1/4 mile to County Road 273.