Jeffers

Mound

Jeffers Mound rests on land owned by the Worthington Historical Society. This single conical mound was part of a larger complex of earthworks. The cultural affiliation is unknown, but archaeological evidence from the 1830s and excavations near its base in the 1970s suggest if may be a Hopewell site from the Middle Woodland Period.

The original earthworks consisted of a rectangular bank enclosure about 3' high with the large conical mound, now known as the Jeffers Mound, a smaller mound in the center, and 2 circular enclosures. The earthworks complex was aligned with the cardinal points and encompassed about 8 acres. The Jeffers Mound lay nearly centered on the south wall of the embankment. The map below shows the complex as it was drawn for Ancient Monuments of the Mississippi Valley, published by the Smithsonian in 1848. The 2 parallel lines on the far right represent the Olentangy River.
William Vining migrated from Simsbury, Connecticut, to Worthington in 1804, purchasing 203 acres of land that encompassed the area now known as the Plesenton subdivision where the Jeffers Mound is located. He and his descendants farmed the land through the turn of the century. Over time, repeated plowings wore down the embankment walls and smaller mounds; however, they could still be seen as late as 1930.
In 1921, Herman Plesenton Jeffers purchased the land and later, when the Jeffers family platted the land for subdivision in 1954, they did exclude the mound from being developed. In 1974. The Jeffers Trust deeded the mound to the Worthington Historical Society in Herman Jeffer's memory so that it could be preserved in perpetuity. The Jeffers Mound was listed on the National Register of Historic Places that same year.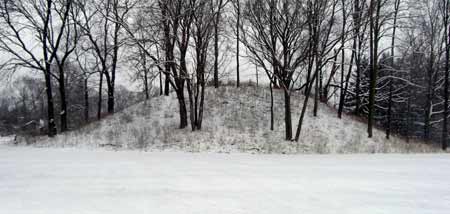 The Jeffers Mound is just west of SR 315 and north of W. Dublin Granville Road on Plesenton Drive, a residential community.
There were once an estimated 10,000 American Indian mounds and earthworks in the central Ohio Valley. Today, about 1,000 of these ancient landmarks have survived through efforts of private landowners, local, state and federal agencies and conservation groups. Of those sites, only about73 are open to the general public or visible from public places.
See also: