Arena District Wining & Dining
Hockey nights provide anywhere from a 20 percent to 35 percent increase over regular business at the local pubs and eateries, so expect longer waits and bigger crowds on home hockey nights.
BD's Mongolian Barbeque offers Asian cuisine with interactive dining where you select the ingredients for a create your own stir-fry, then watch as the chef artisans perform their magic on your creation. Reservations available. (614) 586-0077
295 Marconi Blvd

Buca di Beppo specializes in fresh southern Italian cooking, family-style. Specialties include ravioli, chicken cacciatore, linguine with clam sauce and Neopolitan-style pizzas. Reservations available. (614) 621-EATS (3287)
343 N. Front Street

Cotters Restaurant has a casual cuisine with a bit of imagination tossed in to create a lasting impression. Reservations available. (614) 221-9060
* Full service bar
* Daily specials
* Carry-out service
200 W. Nationwide Blvd.

Frog Bear & Wild Boar Bar has classic American fare. Voted as best bar, has live entertainment with a dance club, billiards & games. Full lunch and happy hour menu. Happy hour specials from 3-8 p.m. ((614) 621-WILD (9453)
343 N. Front St.

Gordon Biersch Brewery Restaurant has award winning American fare, with an international flavor. Has real German beer, brewed fresh on site.
401 Front St.

Huse Crave is next to Life Style Communities Pavilion. Offers munchies and a variety of liquid satisfaction. (614) 224-2430
391Neil Ave.

Max & Erma's Crowne Plaza is Columbus' own, serving classic American cuisine. Featured gourmet burgers, pasta, salads and steaks. Offers a traditional breakfast menu of morning favorites. (614) 228-5555
55 W. Nationwide Blvd.

O'Shaugnessy's is an authentic Irish pub that celebrates Irish history and culture. Offers authentic Irish pub food including corned beef hash and fish & chips. (614) 224-6767
401 N. Front St.

Rise & Dine is available just for breakfast and lunch. Can dine-in or carry out. (614) 222-3008
277 W. Nationwide Blvd.

Ted's Montana Grill is the about the only place you can get a decent bison burger in town as well as ground chuck, served 25 different ways. Also serves a variety of steaks. Decor represents a craftsman-style Montana bar and grill.
191 W. Nationwide Blvd.
Walkability Score
We'll be the first to admit that Walk Score is just an approximation of walkability. There are a number of factors that contribute to walkability that are not part of this algorithm and make no implication of the safety of the area.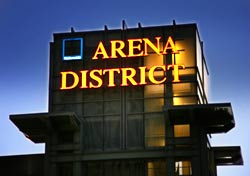 The Arena District can make for a great night on the town, even if the Blue Jackets aren't playing. A number of quality restaurants, bars and night clubs are in the area, plus there's the Arena Grand Movie Theatre which offers first run movies, plus has a bistro and bar. Located on the second level of the Arena Grand Movie Theatre, the Bistro & Bar is the perfect place to grab a hearty snack before, during or after a movie.