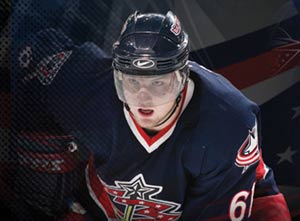 Columbus Blue Jackets
This NHL franchise had their first season in 2000 - 2001 with a record of 28-39-9-6. Since then the Jackets have not done much better, but the 2007 - 2008 season got off to a better start than any previous year under new coach Ken Hitchcock and new General manager Scott Howson.
The team was owned by John McConnell, founder of Worthington Industries and part owner of the now defunct AFL Destroyers arena football team.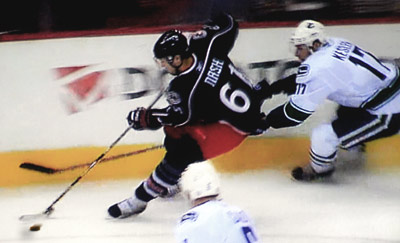 The Blue Jackets are in the Central Division of the Western Conference. This division is made up by the Chicago Blackhawks, Detroit Redwings, Nashville Predators and the St. Louis Blues.
The name "Blue Jackets" was chosen to celebrate the rich Civil War history in Ohio. There is also an outdoor drama called Blue Jacket that features an Native American named Blue Jacket. The logo features a stylized version of the Ohio Flag.
With the building of Nationwide Arena and the introduction of the NHL in Columbus, the Arena District has sparked new development including urban living opportunities, an abundance of exciting night life that was sorely lacking prior to the Arena.
Arena District