Clintonville
About halfway between downtown Columbus and Worthington along a long established Indian trail a preacher from Worthington decided to purchase some land just east of the Olentangy River where he could raise his family and have some room to expand if they needed.
They found enough flat land that could be farmed as well as high ground to avoid flooding that was known to happen along the banks of the Whetstone River (later called the Olentangy River). This is where the first settler and his family found an idyllic spot to establish a permanent homestead just about the time America was going to war with England for the second time.
Thomas Bull -- Clintonville's First Homeowner
A few years before the preacher arrived here, a Revolutionary War veteran bought 320 acres of land on the west side of the Whetstone River. Balser Hess, was one of the first pioneers to set down roots in Clinton Township with his family. His first house, a log structure, was a common stopping place with travelers.
It would be several years later, that Thomas Bull arrived on the opposite side of the river. He was a Methodist minister, farmer and a strong Abolitionist. Bull was originally from Vermont and had come west with his family setting up a temporary residence in Worthington the year before so he could find suitable land to purchase. He eventually purchased some 600 acres of land several miles south of Worthington in Clinton Township.
One of the problems that Bull faced was that there were no other people nearby that could help provide some of the necessities required for a growing family and farm. Bull's oldest son built some small houses and shops along Worthington Pike, now High Street, centered around an area about a block north of North Broadway (Oakland Park).
Bull offered the houses free of charge to anyone with a skill who promised to stay and contribute to the community (and maybe take care of the cows every once and a while).
In time more people began establishing homesteads in the area until there were enough people to support small businesses that were established along the main road (now N. High St.). With more people arriving, a plot of land was set aside for a post office to serve as the heart of Clinton Township. It became known as the Clinton post office. Clinton Township was named for US Vice President George Clinton (he was VP to both Thomas Jefferson and James Madison).
Clinton Ville
In time as the town's population grew, it became known as Clinton Ville, which was shortened to just Clintonville (much the same as many communities throughout Ohio were named (i.e. Ash Ville, Bells Ville, Center Ville, Circle Ville, Greene Ville, Kirkers Ville, McConnels Ville, Wester Ville, Zanes Ville). Clintonville never established itself as a legal entity and was later annexed as part of Columbus.
Clinton Chapel
When Thomas Bull died in 1823, he gave his land to the Methodist Episcopal Church to build a chapel which was called the Clinton Chapel. Over time the use of the building as a chapel ended and eventually became the Southwick Funeral Home at 3100 N. High Street. Part of its historic relevance is that the Chapel was a stop on the Underground Railroad that helped direct escaped slaves from the south on their way to freedom in northern Ohio and Canada.
In 1847 Clintonville had a post office dedicated. This date, September 13, 1847 is the unofficial date of Clintonville's birth.
Clintonville Takes Shape
Today, driving up High Street which is extremely flat with just a slight rise in elevation, the hilly land is not so apparent to a casual observer. In fact, one of Clintonville's unique features are its ravines that have been carved out by melting glaciers thousands of years ago. Those ravines include Glen Echo, Walhalla, and Overbrook (Adena Brook). Two others, the Granden-Torrence and the Old Beechwold-Rustic Bridge have been graded over but still shape the landscape. Those ravines helped create unique enclaves in the developing neighborhoods that sprang up over the ensuing decades .
As interest in the area increased, more housing developments were built. Some were designed for the extremely wealthy; other areas were developed for working families. North Broadway is a good example.
Between High Street and Indianola this development was set aside by deed that homes built here had to be more than $3000 in value when constructed and that each home had to be situated on at least an acre of land. By today's standards, that sum seems downright cheap, but in the early 1900s, $3000 was a small fortune.
Clintonville had become a thriving community with a wide range of housing and businesses. Just before the turn of the century, thousands of visitors were lured to the area to enjoy the Olentangy Amusement Park. This became a big attraction for people wanting to escape the foul odors of living in the big city just south of Clintonville. With the arrival of the automobile, developers turned the area farms and wood lands into more than 80 subdivisions - eventually constructing thousands of new homes.
Clintonville Today
Today Clintonville is loosely defined as being encompassed by the Olentangy River to the west, Indianola to the east, Acadia to the south and just north of Morse Road.
Along High Street there are an abundance of antique boutiques, art galleries, and coffee shops. Whetstone Park and the Whetstone Park of Roses are also located within the unofficial borders of Clintonville.
Clintonville's Farmer Market
Each Saturday morning from 9am to noon, during the growing season through October, you can visit the Clintonville Farmers' Market. Farmers at The Clintonville Farmers' Market are "niche" farmers. This means they don't produce everything the cook requires but every product they produce is top quality. Produce sold at the Market is truly fresh! It is picked less than 24 hours before the opening moments of the Market. Participating farmers live and grow their products within 15-75 miles of Columbus. The produce at a farmers' market is grown for flavor, taste and nutrition—not for travel.
The market is set up on the west side of North High Street, just a few blocks north of North Broadway between Oakland Park Avenue and Dunedin.
The Overbrook Ravine Earthwork and Mounds
Today, most residents of Clintonville are probably unaware that, like many parts of Ohio, Clintonville once had a thriving mound building civilization. In fact all along the Olentangy and Scioto Rivers there were numerous Indian mounds. In downtown Columbus in fact, Mound Street was named for the very large burial mound that was located right about at the intersection of Mound and High Street. Much further north there is a large burial mound on the west side of the Olentangy River in Worthington. Likewise, there was an ancient earthwork in Clintonville just south of Cooke Road and east of Indianola which was known as the Overbrook Ravine Earthwork, but it also was known by some as Fort Reserve, Cook Earthwork or the Dominion Land Company Earthwork..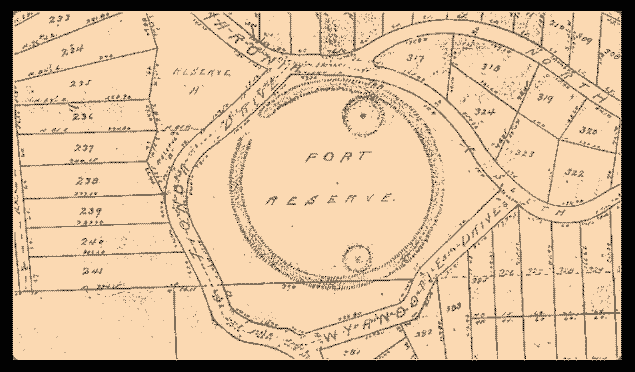 When the first surveyors came through this area, they described the conical mounds as being about 10' tall. The earthwork surrounding the burial mounds was a low circular wall about 400 feet in diameter with an inner ditch along the outer wall, and had two burial mounds located inside the circular earthwork.
Early settlers to the area used the land for farming and greatly reduced the size of the burial mounds so that by the time that farm land was sold and plotted, the mounds had were only a few feet high.
As the area was being developed in the 1950s for residential housing, initial plans were to save the earthwork site as seen in the above proposed plot plan of the new neighborhood. The developers thought the ancient structure would make a good park. However, as lots were sold, the idea of having an Adena burial site in the middle of the neighborhood was not appreciated by some residents who voiced their displeasure. The plans were changed and the mounds leveled. Although it was discovered too late to preserve the mounds, there was time to halt some of bulldozing so a thorough archeological study could be made. Some of the pottery and pipes found at the site are periodically on display at the Ohio Historical Society.
Radiocarbon dating tests on three samples of charred hickory nuts found at the site indicated the burial site was constructed about 2400 years ago and that it was occupied during the early Adena period.
See also: