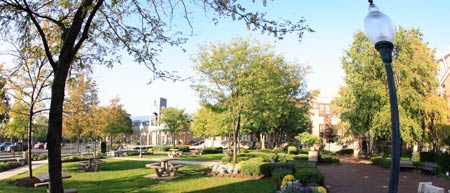 Franklin University
Franklin University was founded in Columbus in 1902 under YMCA sponsorship as the School of Commerce. Franklin University has since become central Ohio's leading educator of working professionals. Franklin has served nontraditional students seeking to advance their education for more than 100 years, and today offers 16
undergraduate majors and 3 Graduate Programs. 1,500 students earn degrees from Franklin each year!
The 12-acre downtown campus has an updated look and feel today, thanks to a new courtyard and completely refurbished buildings (Alumni Hall and Fisher Hall) as well as the renovation and opening of the Student Services Center, which houses all student-oriented services in one location.
The business model taught at Franklin University is applied to the running of the institution as well, which has earned the praise and admiration of the central Ohio business community. Franklin operates under 7 guiding principles.
While Franklin University shares similar attributes with for-profit institutions, they also distinguish themselves by taking a long-term approach versus a short-term focus. The Franklin University faculty are in charge of the curriculum, so students' needs continue drive its offerings.
Franklin University is committed to remaining a not-profit university to keep tuition low. They are committed to remain firmly rooted in the central Ohio community, which has been home for more than 100 years.
Main Campus
Franklin University's Main Campus, in downtown Columbus is located on 14 acres along Grant Ave. Students can easily reach the University via I-70, I-71 or I-670, and by using public transportation.
There are also branch offices located in Delaware, Dublin, and Westerville.
Online courses
Whether you want to take a few courses, earn your bachelor's degree, or complete your MBA, you'll be able to attend class wherever and whenever you want with Franklin University's Virtual Campus.
Students are provided with technology resources in classrooms, laboratories and via the Internet. A wide variety of applications are available, including online courseware, scientific simulations, business applications, desktop publishing software, and a variety of programming environments.