Lincoln Theatre
The Lincoln Theatre is listed on the National Register of Historic Places and is located on the near east side of downtown Columbus in the King-Lincoln District recently underwent a $13.5 million renovation. In 2009 the historic theatre received the Preservation Merit Award from the Ohio Historic Preservation Office of the Ohio Historical Society.
The original theatre opened in 1928 and was known as the Ogden Theatre and Ballroom. Built by developer Al Jackson, the theatre was built in response to wide-spread segregation that prohibited blacks from attending other theatres in the city. The name was changed in 1938 to the Lincoln when it began operating as a movie theater in combination with live musical productions.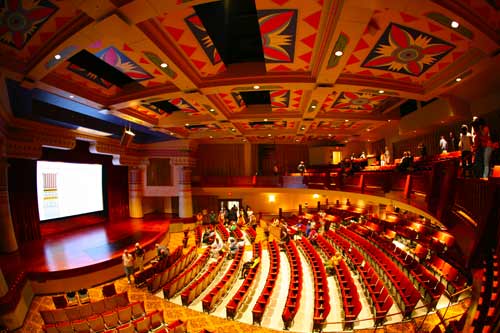 Over the years, the Lincoln Theatre became a major venue for legendary jazz stars such as Dizzy Gillespie, Charlie Parker, James Brown, MilesDavis, Duke Ellington, Sarah Vaughn, and Columbus native Nancy Wilson. Not long after the opening celebrations, one future star made his first appearance in Columbus at the then called Ogden Theatre. A 3 year old Samuel Geoge Davis, Jr. made a spontaneous demonstration on stage with his uncle's dancing group. He would later be known as Sammy Davis Jr.
The 2nd floor ballroom was remodeled in th 1930s and became known as Club Lincoln.
The Lincoln was closed in the 1960s when the near east side was cut off from the downtown area with the construction of the interstate through the east side of Columbus. In the 1990s it was slated for demolition, but through a concerted effort to save this building it was added to the National Register of Historic Places in 1992.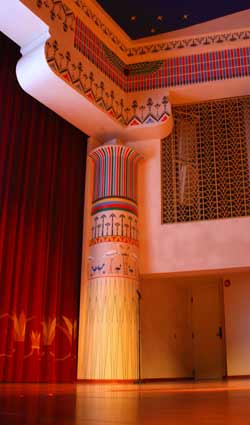 The new and revitalized theatre has taken on a broader role in the community. As originally constructed the design was based on a style called Egyptian Revival decor that was popular for a short time because of the discovery of King Tut's tomb in 1922. The renovation and revitalization of the theatre not only saved that original style, but expanded the entertainment venue to include an educational center devoted to the performing arts.
Today the historic 3-leveled Lincoln Threater has become a multi-use, state-of-the-art performing arts center designed to engage, education and entertain the community.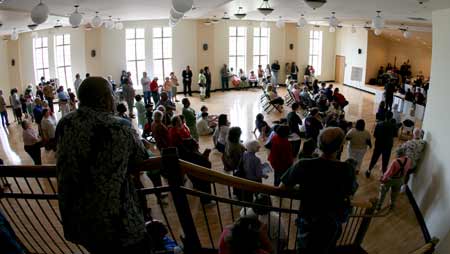 Lincoln Ballroom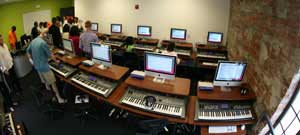 One of the money training rooms found on the 3rd floor of the Lincoln Theatre